Every month we have an article in the Christ Church Pennington Parish Magazine. Below you can read our most recent contribution!

A leader's reflection on 'B' Mission – Phil Isherwood
—————–
"So welcoming" … "such friendly people" … "the kids really want to come again next week" … "I've had so much support here" … "I've found a whole new life – it's brilliant" … "After so many difficult years – we have found a purpose to life…" … "This is so different – I feel really at home here" … "My life has really changed- God loves me!"
——————
These are just some of the comments we hear at Sports Village Church (SVC) – We set out to be a different style of church when we began over ten years ago and wanted to be a community – one especially open to those with little church background and those who had experienced more than the usual struggles and challenges in life. This passion was the reason we have partnered with Christians Against Poverty (CAP). We didn't have a detailed plan and hope we have stepped through the doors God has opened. However,… what appears below looks like a plan (!) but, to be honest, it is only when I spent time looking back at how SVC has evolved over the years that 'the plan' became clear. I feel God has shown us something really valuable to guide us as we move forward.
To Bless people through service in witness to the love of God – CAP Debt help and Life Skills courses, community fund and more…(1 Corinthians 9:22)
To Belong to the Church community, – by welcome, social/community time (with food!) at church, kids groups, social events, CAP Life Skills / Socials, and more… (John 17:9-10)
To Believe in Jesus – helped through CAP weekends, calls to faith at church and in Life Explored, one to one evangelism (John 3:16)
To Become more like Jesus. – church community, worship teaching, study, prayer and discipleship in Life Groups … Learning to Bless others. (Colossians 3:10)
When you see this 'B' Mission plan, it is best to look on it as a circle – as we become more like Jesus, the passion grows stronger to bless others, bring them into belonging and believing in Jesus. The challenge to our SVC Leadership Team find the effective balance for each – Bless / Belong / Believe / Become.
If a church is insufficiently active and resourced in one area, then the plan may fail. For example, a church may have very extensive community action and very strong teaching and discipleship… but mission will be ineffective without the bridges between them through belonging and believing. Similarly, new believers will drift away if they cannot sustain the sense of belonging, grow in faith, becoming Christ-like to find roles in service to bless others in a new purposeful life.
Sports Village Church is working its way forward with limited resources for the great challenges in serving those who are struggling and recovering. We are so grateful for the, financial, practical and prayerful support we receive from CCP. Please pray about our SVC mission… and if you feel God is calling you to join us, please come along one Sunday. We'd love to welcome you…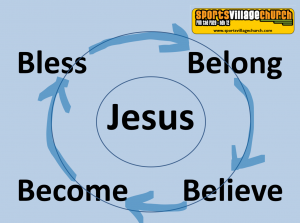 SVC meet in the Harriers Building on Leigh Sports Village, Sunday afternoons, starting at 4:30pm www.sportsvillagechurch.com