Every month we have an article in the Christ Church Pennington Parish Magazine.
Below you can read our most recent contribution!

Well 2017 has ended well for Sports Village Church!
We held a thanksgiving service to celebrate the 5th birthday of our Chrisitans Against Poverty Debt Centre and all the work that has happened both within the Debt Centre and our Life Skills Courses during that time.  Lots of clients both old and new came to help us celebrate.  A wonderful way to recognise all that has been achieved and thank God for his continued blessing.
As we entered the next five years, we prayed for the CAP Team Helen, Ally and Laura, the volunteers, CAP Trustees and Barbara who has stepped in now as CAP Line Manager. We are so grateful for the many CAP supporters we have in both prayer and finance – please carry on praying and giving for this CAP ministry!
We also celebrated being given "Church for a Different World Award 2017" which was presented by the Bishop of Manchester at a special ceremony.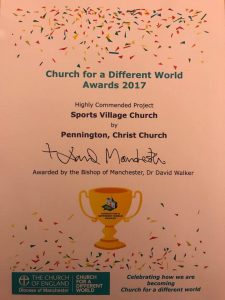 Happy New Year to all our friends – we are excited to see what God has planned for us all in 2018!
SVC meet in the Harriers Building on Leigh Sports Village, Sunday afternoons, starting at 4:30pm  www.sportsvillagechurch.com