Every month we have an article in the Christ Church Pennington Parish Magazine.
Below you can read our most recent contribution!

The Vision of SVC "Without a vision the people will perish" Proverbs 29 v18
After celebrating SVCs 9th birthday back in September Eric thought it would be a good time to re-share the vision of SVC.
Just before Jesus left the earth he gave a prophetic message to His people.  Matthew 28 v19-20 says "Therefore go and make disciples of all nations, baptizing them in the name of the Father and of the Son and of the Holy Spirit, and teaching them to obey everything I have commanded you. And surely I am with you always, to the very end of the age."
Eric then went onto explain how he began to read Tim Keller's findings on church planting in 2006 and his discussions with Tony Butterworth who also shared Eric's vision and enthusiasm for a daughter church to be sent out from CCP.
2 years were then spent praying, studying and gathering information and in 2008 SVC was born!
The church wanted to stand by Jesus's words in John 14 v6 "I am the way and the truth and the life. No one comes to the Father except through me."  It was felt that the church's missional calling was to not give up on traditional beliefs/God's word, the truth of bible/Gods authority and to balance that alongside social action.
SVC has tried to carry this out by making contact with people.  People want to see God's love in action and we do this through our wonderful CAP work and also through the SVC Community Fund that also helps those in need.  It is also why the church holds a social event once a month during the Summer.  As a church we know that people need to "belong before they believe" and that relationship building is key.  We know that people need to hear the gospel on many occasions before they will be ready to make a commitment for themselves.
Eric then went on to tell us about the Engel Scale.  It was developed by James F. Engel as a way of representing the journey from no knowledge of God through to spiritual maturity as a Christian believer. The model is used by some Christians to emphasise the process of conversion, and the various decision-making steps that a person goes through before they become a Christian.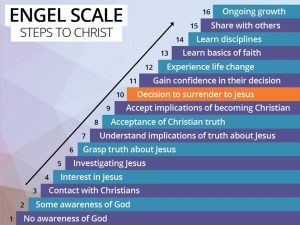 Why we do certain things the way we do at SVC?
Start time of 4:30pm – To reach those who want a lie in! but also those who have small children for whom an evening service would be too late.
Worship style – whats important is not what we like, but what those we are trying to reach want to feel comfortable.
Sermons – we want to provide in-depth truthful sermons with no confusing/long theological words (or an explanation if needed to be used), appropriate teaching for all ages (which is why our Sunday children's groups are so very important).
Other chances to meet– eating together before the service on a Sunday, Christianity Explored course, Life groups, Prayer breakfast, Source night, social events.
Eric then ended with 3 key words:
Relationships
Relationships
Relationships!
Thank you to all those who continue to support us in prayer and visiting us on a Sunday.  Praise God for the last 9 years and for all he continues to bless us with both at SVC & CCP.
Wishing you a peaceful & blessed Christmas time.
SVC meet in the Harriers Building on Leigh Sports Village, Sunday afternoons, starting at 4:30pm  www.sportsvillagechurch.com