Dates for your Diary
May
New Sermon series: Our new sermon series in May and June is looking at the little New Testament book of Titus, subtitled 'A letter to a shepherd'
28th May is another of our occasional Q and A sessions, where questions can be submitted be-forehand, and Eric and Trevor will try and answer them! They can be submitted on paper or by email.
June
Wednesday 7th June – CAP Client (only) Event! 7-9pm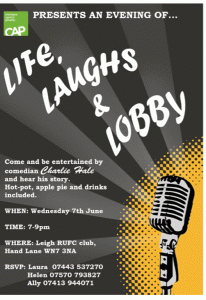 Please hold up the event in Prayer and if you're able too offer lifts or help in general please speak to Helen, Laura or Ally. Thank you!
---
22nd-28th July – New Wine – United 2017 – Venue: Royal Bath & West Showground, Shepton Mallet.
https://www.new-wine.org/events/united-2017-week-1 Helen is booking this year's visit, so why not join the rest of our SVC group for a truly uplifting event. If your able to pay in full by 31 May its just £158 per person for all the teaching and campsite fees, kids are cheaper and they get amazing age-appropriate teaching and fun clubs. Please contact Helen Bolton via Facebook Messenger or Email for more information and booking details. Thank you.
---
News