Dates for your Diary
 April
Why not checkout our On Track Newsletter – April Edition  for a full breakdown of what we're up-to this month!
A Prayer Focus for Easter Week 25th March – 1st April
Below are some prayer points and scriptures for you to ponder and pray about this week as we lead into Easter Sunday.
Palm Sunday – God is calling you – John 6:44, 2 Timothy 1:9
Monday – God's faithfulness – 2 Timothy 2:13, 2 Thessalonians 3:3
Tuesday – God Prepares you – Philippians 4:13, John 16:33
Wednesday – God Shows you the Way – Jeremiah 29:11, Psalm 119:105
Thursday – God Deals with your doubts – Hebrews 11:6, Isaiah 41:10, Mark 9:24
Friday – God shows His Love for You Romans 5:9, John 15:13, Ephesians 2:4-5
Saturday – God's Promise Philippians 4:19, John 14:27
Easter Sunday – He is Risen – Believe and Celebrate! Matthew 28:6, John 3:16
---
News
February 2018
Sports Village Church (SVC) is featured in the February edition of Crux, the Manchester Diocese magazine. The article is on page 13 under the heading "A Different Kind of Church"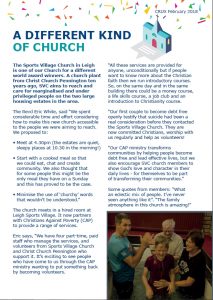 We are trying to get some copies but in the meantime you can also see the online pdf version at
https://www.manchester.anglican.org/documents/crux-feb-18/
So thanks to everyone for making SVC a different kind of church! Eric.
November 2017
Back in October we were made aware that Bishop David (Bishop of Manchester) has been investigating churches that have effectively adapted to the different world of today's society.
This month we received a letter from him which stated:
"I am delighted to let you know that the Sports Village Church has been highly commended in our Church for a Different World Awards"
Praise God and Thanks to you all for making this happen. 
---