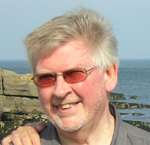 Eric White (Founding Pastor)
I became a Christian in 1984 after being impressed with the change Jesus had made in my wife Jackie's life who had become a Christian some years earlier. Prior to this, in my teens, I had enjoyed life as a member of a well known local rock band The Pressmen. Later I played with Turnpike, a Folk and Ceilidh band, and Inclognito, an extremely funny Lancashire comedy folk band.
Life was great and I have many exciting and fond memories but nothing can compare with my life now as a Christian with Jackie (you can see her hand on my photograph!).
I was ordained in 2001 and in 2005 God started to show me a vision of a new kind of church and that vision, under God's guidance, has developed into SVC.
Our other church leaders are:
John Bennett (Lead Pastor)
Simone Bennett
Jackie White
Simon Edwards