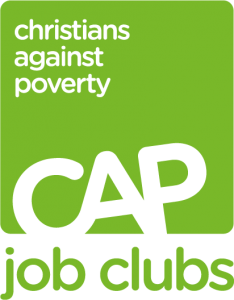 We are looking forward to the launch of our CAP Job Club, with God's provision sometime this year (2018). 
Further information and contact details to follow nearer the launch date.
Job club includes an eight week interactive Steps to Employment Course, covering topics such as identifying strengths, CV writing, and interview techniques. Further details about CAP Job Club can be found here.
What CAP says about Job Club …..
"Your local CAP Job Club is a friendly place where you will get practical help as you seek employment. It's a relaxed environment with the chance to meet other job seekers, get support and gain the tools you need to find work.
Being unemployed can be hard to deal with on your own, but being part of one of our 162 CAP Job Clubs means you face the challenge with other people in similar situations. 35% of job club attendees now find work!
CAP Job Clubs help job seekers gain the tools, skills and confidence to step back into employment. Our combined practical and emotional support is why the Department of Work and Pensions highly recommends our service."