Welcome to the Sports Village Church (SVC) website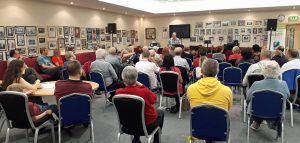 We are glad that you are here and hope you can stay around for a few minutes to find out more about us.
Sports Village Church is situated in Leigh, Lancashire and is located on the state of the art Leigh Sports Village. SVC started in September 2008 as a 'plant' from Christ Church Pennington see www.christchurchpennington.com. We are supported and endorsed by Christ Church Pennington, we believe the same things but offer a very different style of church. We meet on Sunday Afternoons at 4.30pm, in the Leigh Harriers Function Room for food and then the service begins at 5pm.
Please feel to sample our Podcasts and have a look around to find out more.
Most of the questions we get asked can be found here.
'He will give you rain for the seed, which you will sow in the ground' Isaiah 30 v23
Subscribe to our newsletter below to keep up to date with what's going on at SVC!